Dogs are not our whole life, but they make our lives whole ~ Roger Caras
 
SilverLake GSP, located in Oklahoma City, are breeders with the goal of raising the all around German Shorthaired Pointer.
Just about everyone loves dogs. We love dogs with great passion, as well as tremendous humility for what they add to our lives.  We love every aspect of what they bring to us; joy in obedience titles, a tear while doing therapy work, excitement watching the collies herd, and the phenomenal beauty of field work with our GSP's.  
What we love most of all is the quite sofa time that calms our hearts. In return, we try to give our dogs the time to do what they were bred to do, to be dogs and enjoy the freedom to run free on their land. We know they love us in return by being in our home everyday, teaching us how to be with each other and others. They also remind us everyday how important it is to have a good sense of humor when you live with a pack of dogs! 
We have begun with the finest example of the breed standard we could find. We offer great thanks to the Fieldfine family from which we received our start. We will always be indebted to them for trusting us with their wonderful dogs.

At Silverlake we believe in positive reinforcement training. If you live in Oklahoma we highly recommend Full Circle Obedience School in Oklahoma City for the building blocks of a well adjusted dog.  If you live south of Oklahoma City we recommend the Canine Sports Academy.
Three Times a Charm
back to back to back
Ethel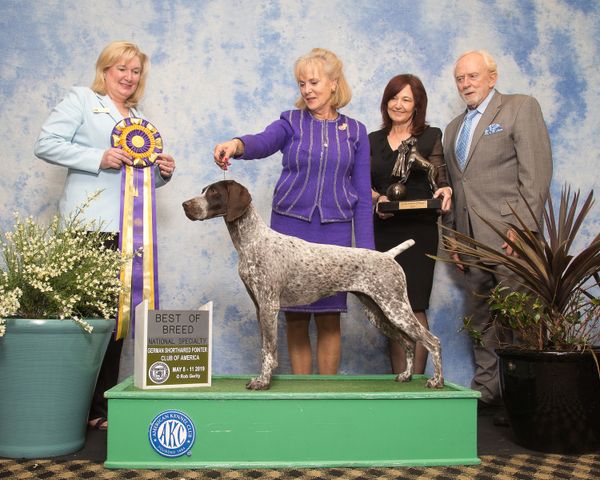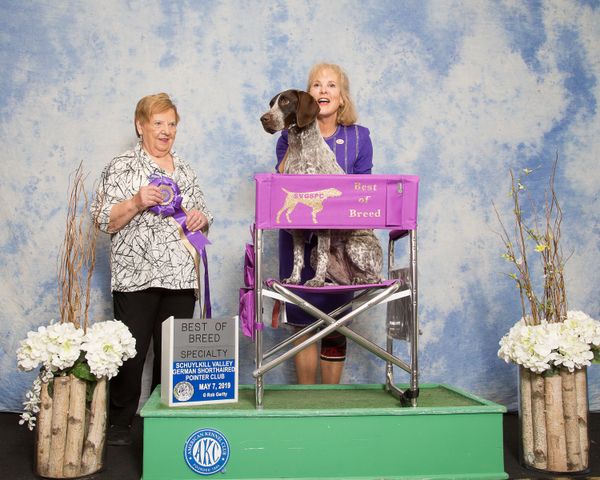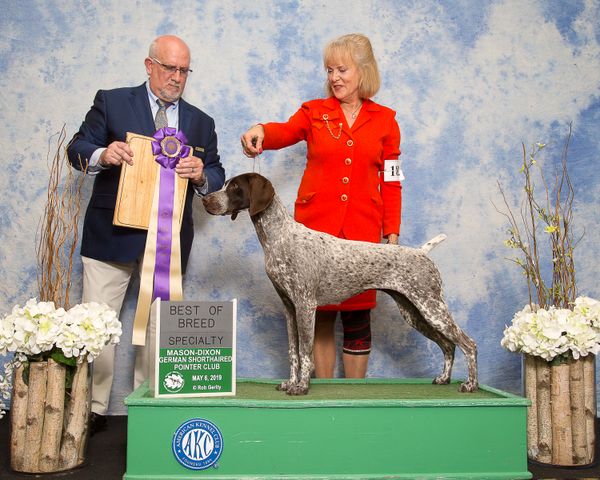 One hot summer day, Dr. G (Gary McNeill, DVM) came home with yet another little dog crate. As he placed the crate on the driveway I asked, what are we taking care of now?  He gave no response. I looked in the crate and saw a German Shorthaired Pointer puppy..

When you are married to a Veterinarian you grow accustomed to a round of "houseguests" that almost always need some kind of extra care. I thought the puppy was very cute but had to ask "What's wrong with him?" I'm told there is nothing wrong with the puppy. Hmmm. I ask "Why has he come to stay with us for awhile?" "How much do you love me?" Dr. G asks. "He's a gift" he tells me. A gift? He was given the puppy as a gift for whelping a litter and saving the mom. I'm thinking -- he's a birddog. My Grandpa showed birddogs. I don't like birddogs. That's why I have Collies. And, oh no, it's a boy.  He's a good little bird dog. His name is Pete. Dr. G. has named him.

I guess he's ours!  Six months later, I was entering the collies in a local show and Dr. G suggested I enter Pete. Why not, Pete would enjoy it. I trained him for two weeks and I'll be darned if he didn't take breed! That is how it all started. I was hooked on showing sporting dogs and Dr. G finally had his hunting dog. Pete thought that, at the shows, everyone came to see him. We both loved his attitude and spunk at the shows. The problem was that being from a hunting line; he just never got the size required to win in the show ring. We began the search for a show line of GSPs that would meet the standard for the breed ring, had sound temperament, and could hunt. 
We are totally taken by the GSP personality, constant joy, and the success they have brought us.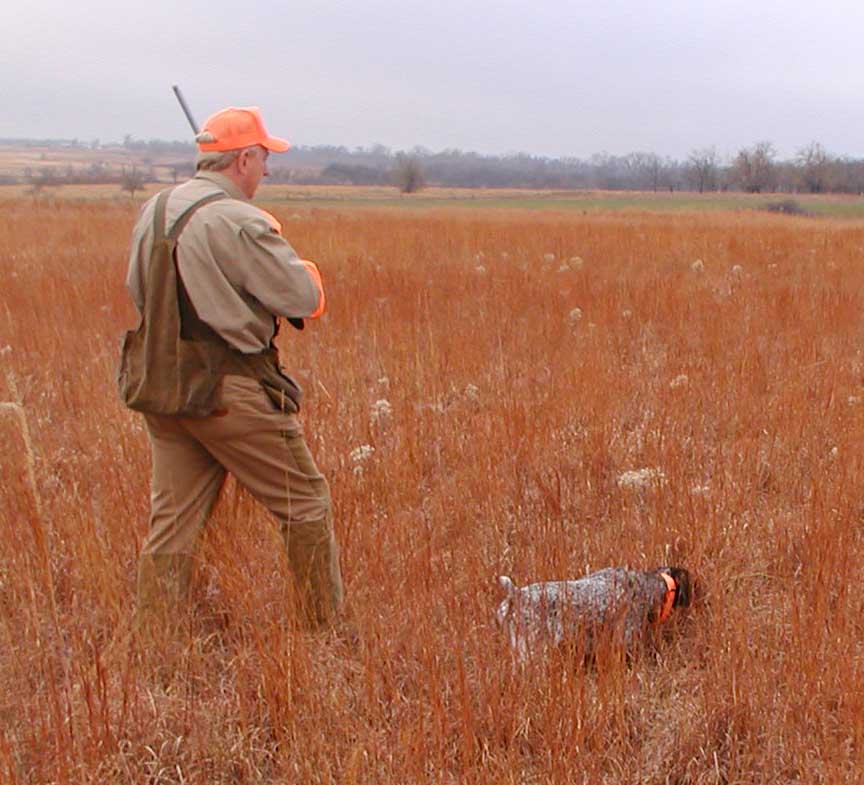 Coming soon to our whelping box mid July
Stars of the Silver Screen
Grant
BIS BISS GCH Starfield's Army Strong V Bukley JH NRD DS
X
Julie
INT/AM GCH SilverLakes Perrier Jouet
"Grant"
Owned by Lynn Rhodes & Steve Herman
http://starfieldgsps.com/grant
"Julie"
Owned by Dr. Gary & Barbara McNeill